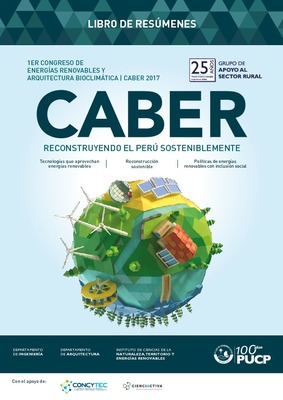 Abstract book
[Libro de resúmenes] Primer congreso de energías renovables y arquitectura bioclimática – CABER 2017 (Abstract book of the First Congress on Renewable Energy and Bioclimatic Architecture – CABER 2017)
Author(s):

Alayza, Bernardo (editor)

Imprint:

Lima: Pontificia Universidad Católica del Perú. Academic Department of Engineering: Academic Department of Architecture: Rural Sector Support Group: Institute for Nature, Earth and Energy (INTE-PUCP), 2018, 89 p.
This publication gathers the knowledge generated on prevention of natural disasters, climate change and reconstruction at CABER 2017. Information in this book was prepared by various researchers and teachers in the scientific, social and political fields; engineering, architecture, social science and related studies; as well as policy makers at the national level; entrepreneurs in renewable energy and bioclimatic architecture issues; among others.
ISBN: 978-9972-674-20-4