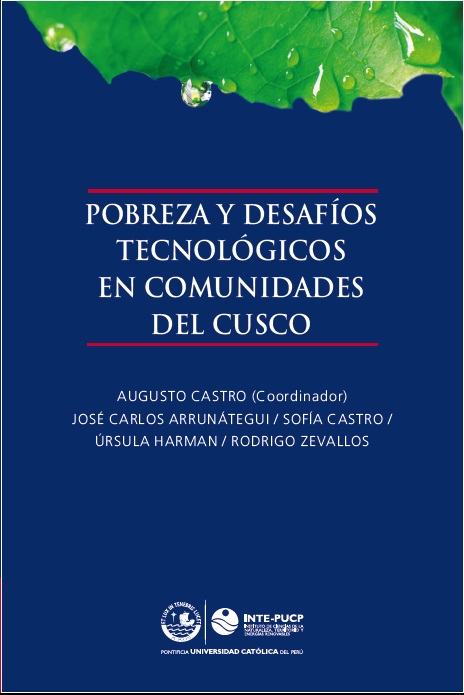 Book
Pobreza y desafíos tecnológicos en comunidades del Cusco (Poverty and technological challenges in Cusco communities)
Author(s):

Castro, Augusto (coordinator); Arrunátegui, José carlos; Castro, Sofía; Harman, Úrsula; Zevallos, Rodrigo

Imprint:

Lima: INTE - PUCP, 2014. 138 p. (Kawsaypacha research notebooks, 2).
The study analyzes the living conditions of some high Andean communities in the department of Cusco and evaluates their possibilities to incorporate low-cost technological solutions that allow them to access electrical energy sources. The energy interconnection system with PUCP Riogeneradores (river generators) is part of the project's initial studies, in high Andean rural communities of the Cusco and Huancavelica departments (2011-2013). Subsidized by the European Union and implemented by PUCP's Rural Sector Support Group, it is aimed at establishing the project's socioeconomic baseline.
ISBN: 978-9972-674-06-8